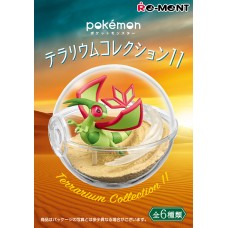 Additional Savings!
Earn Reward Points and apply them to purchases! Find out how to earn more points here.
Pokemon Terrarium Blind box trading figures. Features clear pokeball terrarium. There are 6 different terrariums in this set. Each will be selected at random The line up is:
[1] Pikachu / Turtwig (Japanese: ナエトル Naetle)
[2]  Teddiursa (Japanese: ヒメグマ Himeguma)
[3]  Altaria (Japanese: チルタリス Tyltalis)
[4] Spheal (Japanese: タマザラシ Tamazarashi)
[5] Flygon
[6] Shaymin
Order 6 for the complete set. Packaging: Full color retail box.
*Note: ships with NO candy. Japan release date: 4/22/2022
https://www.youtube.com/user/MugenToys/featured
02-20659 Pocket Monsters Pokemon Terrarium Collection Vol. 11 Trading Figure (One Random)