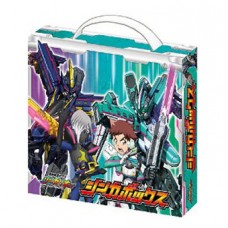 Additional Savings!
Earn Reward Points and apply them to purchases! Find out how to earn more points here.
Shinka Box from Shinkansen Henkei Robo Shinkalion.
This box is a product that includes multiple items such as cards, round menko, magnets, and ID photo-style stickers.
The package is bag-shaped and can be carried anywhere.
Contents: 
Cards   9 pcs
Round Menko  1 set (Menko (めんこ, 面子), also known as Bettan or Patchin, is a Japanese card game played by two or more players.)
Magnet 1 piece
ID photo style sticker  1 sheet
MFG: Ensky

https://www.youtube.com/user/MugenToys/featured
03-43640 Shinkansen Henkei Robo Shinkalion Shinka Box