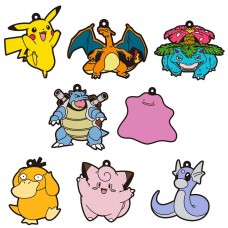 Additional Savings!
Earn Reward Points and apply them to purchases! Find out how to earn more points here.
Bandai Gashapon Pokemon Pocket Monsters Sun & Moon capsule rubber mascot. Features ball chain key chain for attachment. Size: 2.25 inches (5.5 cm ). Collector's Item. Officially Licensed.
There are 8 figures in a set.  The figures in the set are:
[1] Pikachu (Japanese: ピカチュウ Pikachu) 
[2] Charizard (Japanese: リザードン Lizardon)
[3] Venusaur (Japanese: フシギバナ Fushigibana)
[4] Blastoise (Japanese: カメックス Kamex)
[5] Ditto (Japanese: メタモン Metamon)
[6] Psyduck (Japanese: コダック Koduck)
[7] Clefairy (Japanese: ピッピ Pippi)
[8] Dratini (Japanese: ミニリュウ Miniryu)
These Figures are from Japanese Gashapon (Capsule) Toys. 
https://www.youtube.com/user/MugenToys/featured
01-18225 Pokemon Sun & Moon Capsule Rubber Mascot Pt. 4 300y