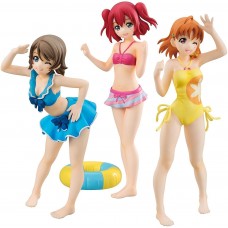 Additional Savings!
Earn Reward Points and apply them to purchases! Find out how to earn more points here.
Bandai Gashapon Love Live! Sunshine!! Gasha Portraits 01 mini figure collection. This set depicts the characters from the Love live! series in swimwear. Some assembly required. Size 5 inches (10 cm)
Set includes 3 figures;
[1] Chika Takami
[2] You Watanabe
[3] Ruby Kurosawa
These figures are from Japanese Gashapon (capsule) toys. Packaging: Plastic Capsule with all Japanese text mini booklet.
https://www.youtube.com/user/MugenToys/featured
01-13487 Love Live! School Idol Project Sunshine!! Gasha Portraits 01 500y