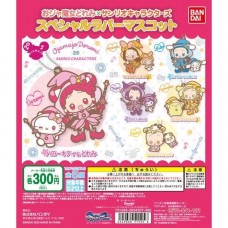 Additional Savings!
Earn Reward Points and apply them to purchases! Find out how to earn more points here.
Bandai Japan Magical Do Re Mi Capsule Rubber Mascot . Features a ball chain key chain for attachment. Size: 2.25 inches (5.5 cm). There are 6 figures in the set. The Line up is:
These Figures are from Japanese Gashapon (Capsule) Toys. 
SR-51545 Ojomajo Magical DoReMi X Sanrio Character Special Capsule Rubber Mascot 300y