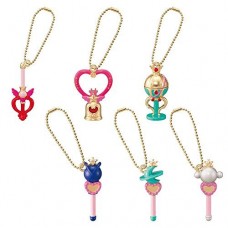 Additional Savings!
Earn Reward Points and apply them to purchases! Find out how to earn more points here.
Product Type: Keychain.  Size: 4 cm. Diecast Construction. There are 6 charms in this set. The set Includes:
Moon Kaleidoscope
Crystal Carillon
Stallion Reve
Sailor Uranus Lip Rod
Sailor Neptune Lip Rod
Sailor Pluto Lip Rod
Gashapon Toys. 
Physical Attributes
Size
4 cm
Type
Keychain / Mascot
https://www.youtube.com/user/MugenToys/featured
01-95771 Bishoujo Senshi Sailor Moon Super S Die Cast Charm pt 3 300y