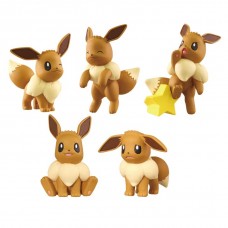 Additional Savings!
Earn Reward Points and apply them to purchases! Find out how to earn more points here.
Bandai Eevee Ippai mini figure collection. Size 1.25 inches, 4 cm. There are 5 figures in a set. The figures in the set are various poses of Eevee. 
Eevee (Japanese: イーブイ Eievui) is a Normal-type Pokémon introduced in Generation I.
Eevee Wink
Eevee Tsukamari (Catch / Grasp)
Eevee Speed Star
Eevee Sitting
Eevee Shonbori (Dejected / Discouraged)
These Figures are from Japanese Gashapon (Capsule) Toys.  Price per figure.
https://www.youtube.com/user/MugenToys/featured
02-87021 Pokemon Sun & Moon Eevee Ippai Collection Full Collection 2 200y