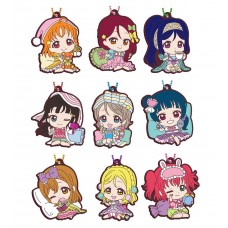 Additional Savings!
Earn Reward Points and apply them to purchases! Find out how to earn more points here.
Bandai School Idol Project Love Live! Sunshine! Capsule Rubber Mascot Part 10.  Pajamas version / theme.  Features a ball chain key chain. Size: 2.25 inches, 5.5 cm. There are 9 figures in a set.  The figures are:

Chika Takami (高海 千歌)

Riko Sakurauchi (桜内 梨子)
Kanan Matsuura (松浦 果南)
Dia Kurosawa (黒澤ダイヤ)
You Watanabe (渡辺曜)
Yoshiko Tsushima (津島善子)

Hanamaru Kunikida (国木田 花丸)

Mari Ohara (小原 鞠莉)

Ruby Kurosawa (黒澤 ルビィ)
These Figures are from Japanese Gashapon (Capsule) Toys. 
Physical Attributes
Attachment Type
Ball Chain
Size
5.5 cm
https://www.youtube.com/user/MugenToys/featured
01-26913 School Idol Project Love Live! Sunshine!! Capsule Rubber Mascot 10 300y