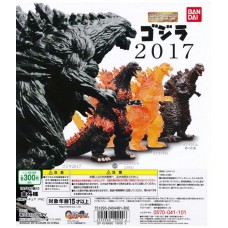 Additional Savings!
Earn Reward Points and apply them to purchases! Find out how to earn more points here.
Features
Exclusively from Bandai Japan
Size: 7.5 cm (3.0 inches) Height
Collector's Item
Officially Licensed ©Toho CO. Ltd.
 Bandai High Grade Figure Godzilla 2017 Trading Figure Set. There are 4 figures in this set. Each Sold Separately, Price per piece. The lineup is:
[1] Burning Godzilla 1995
[2] Melt Down Godzilla 1995
[3] Godzilla 2016 : Fourth Form
[4] Godzilla 2017
These Figures are from Japanese Gashapon (Capsule) Toys. Packaging: Sealed Polybag with Japanese Text Paper slip. 
*** NOTE *** Rare figure; There is only one 1995 Burning Godzilla in every full bag of 40 pcs.  (Must purchase full bag - 40 pieces - to get this figure)
Video Showing Figure Detail Here: (Japanese Text, Language)
Physical Attributes
Size
7.5 cm
Type
Figure
https://www.youtube.com/user/MugenToys/featured
M1-19949 Bandai HG Gashapon Godzilla 2017 High Grade Figure 300y - One Random