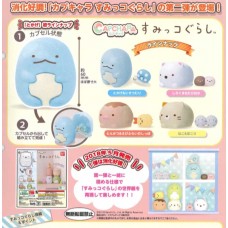 Additional Savings!
Earn Reward Points and apply them to purchases! Find out how to earn more points here.
Features
Exclusively from Bandai Japan
Size: 6.0 cm (2.5 inches) Height
Collector's Item
Officially Licensed
Bandai Gashapon CapChara Sumikko Gurashi Vol.2 mini figures. The shape of each figure is the actual capsule case.  Inside the capsule, there is an additional part or small figure.  There are 4 figures in a set. The Line up includes:
[1] Lizard & false snail
[2]  Shirokuma White (polar) bear & tapioca
[3] Neko & Dust
[4] Tonkatsu & shrimp tail
These Figures are from Japanese Gashapon (Capsule) Toys.
https://www.youtube.com/user/MugenToys/featured
SR-29531 Sumikko Gurashi Capuchara 300y