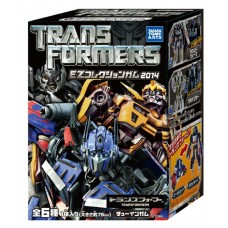 Additional Savings!
Earn Reward Points and apply them to purchases! Find out how to earn more points here.
Takra TOMY A.R.T.S Blind Box (Trading Figures) Transformer EZ Collection 2014. Mini Transformable figures. Includes all Japanese text mini booklet.
Line up includes 6 figures:
Optimus Prime
Megatron
Bumblebee
Ironhide
Sound Wave
Grinder
Blind Box (Trading Figures): you will receive one of the figrues in the lineup at random. We connot select the figure for you.
Orderr 6 to get an entire display box of 6 pcs. One Box contains the COMPLETE set of all 6 figures.

03-10312 Transformers Chronicle EZ Collection 2014 800y
Views: 3155
Takara TOMY A.R.T.S
Product Code:

90479010312

SKU: 90479010312
JAN: 4904790103124
Availability:

381