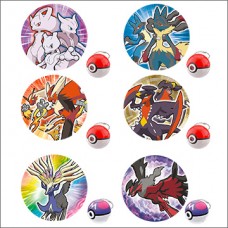 Additional Savings!
Earn Reward Points and apply them to purchases! Find out how to earn more points here.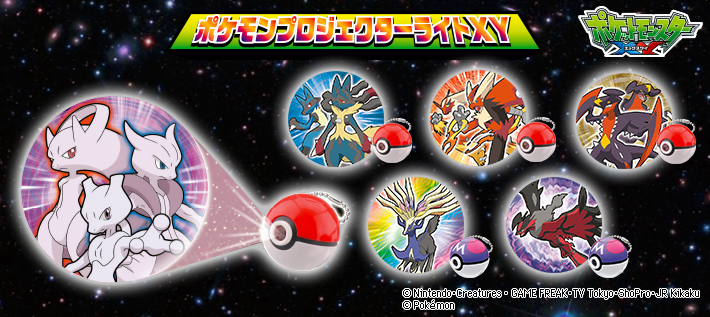 Features
Exclusively from Takara TOMY A.R.T.S Japan
Size: 2 inches (5.0 cm) Diameter
Collector's Item
Officially Licensed
When you press the button of the monster ball type body, Pokemon are projected on the wall etc. The Pokemon XY Pokemon have joined the popular Pokemon Projector Light series. Besides the legendary Pokemon Zerneas and Ibertal, The lineup also includes Pokemon who have been a mega sinker that is also the point of "Pokemon XY", By projecting, you can check the appearance before and after Mega Shinka at once.
There are 6 Differnet Pokeballs  / Master Ball Light Projectors. The lineup is:
Mega Mewtwo (Japanese: ミュウツー Mewtwo) (Pokeball)
Mega Lucario (Japanese: ルカリオ Lucario) (Pokeball)
Mega Blaziken (Japanese: バシャーモ Bursyamo)  (Pokeball)
Mega Garchomp (Japanese: ガブリアス Gaburias) (Pokeball)
Xerneas (Japanese: ゼルネアス Xerneas) (Masterball)
Yveltal (Japanese: イベルタル Yveltal) (Masterball)
Best quality image can bee seen from about 2 feet from surface. Image is about 24" in diameter from about 6 ft away. Quality construction features screw assembly. Battery compartment can be opened to replace batteries (2 LR44)  Features ball chain key chain for attachment. Batteries included.
Size: 2 inches. Packaging: Sealed poly bag with Japanese text mini booklet. These Figures are from Japanese Gashapon (Capsule) Toys.
©Nintendo・Creatures・GAME FREAK・TV Tokyo・ShoPro・JR Kikaku
©Pokémon
02-81539 Pokemon Projector Light XY Mini Pokeball Image Light Projector 200y