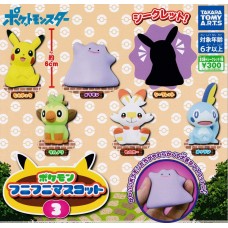 Additional Savings!
Earn Reward Points and apply them to purchases! Find out how to earn more points here.
Takara TOMY A.R.T.S gashapon Soft Vinyl Pokemon Mini figure collection. Size: 2.25 inches (6 cm). Packaging: Plastic Capsule with Japanese text booklet.
There are 6 different figures i this collection.
Pikachu (Japanese: ピカチュウ Pikachu)
Ditto (Japanese: メタモン Metamon)

Grookey (Japanese: サルノリ Sarunori)
Scorbunny (Japanese: ヒバニー Hibanny)
Sobble (Japanese: メッソン Messon)
Secret Version Ditto Pikachu
These figures are from Japanese collectible gashapon (capsule) toys.
02-88154 Pokemon Funi Funi Soft Vinyl Mini Figure Mascot Vol. 3 300y