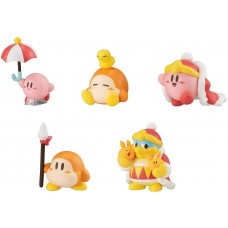 Additional Savings!
Earn Reward Points and apply them to purchases! Find out how to earn more points here.
Bandai gashapon Kirby PuPuPu Friends Mini figure collection. Kirby and friends mini PVC figures. Size: 1.25 inches - 2.5 inches. Packaging: Sealed polybag with Japanese text mini booklet.
There are 5 figures in this set. The figures are:
Parasol Kirby
Waddle Dee & Twizzy
Waddle Dee with Spear
Kirby Cosplay King Dedede
King Dedede & Scarfy
These figures are from Japanese gashapon (capsule) toys.
02-40607 Kirby's Dream Land PuPuPu Friends Mini Figure Collection Vol. 2 300y