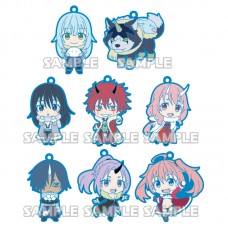 Additional Savings!
Earn Reward Points and apply them to purchases! Find out how to earn more points here.
Bushiroad Creative gashapon That Time I Got Reincarnated as a Slime Capsule Rubber Mascot Vol. 2. Features strap and clasp for attachment.
Size: 2.25 inches (5.5 cm).
There are 8 figures in this set. The figures are:
Rimuru Tempest (リムル゠テンペスト, Rimuru Tenpesuto) formerly known as Satoru Mikami
Ranga ( 嵐牙 ( ランガ ) , Ranga, lit. "Storm/Tempest Fang")
Shizue Izawa (井沢静江 Izawa Shizue)
Benimaru ( 紅丸 ( ベニマル ) , benimaru, lit. "Crimson Circle")
Shuna ( 朱菜 ( シュナ ) , shuna, lit. "Vermilion Vegetable")
Souei ( 蒼影 ( ソウエイ ) , sōei, lit. "Blue Shadow")
Shion ( 紫苑 ( シオン ) , shion, lit. "Aster tataricus")
Milim Nava (ミリム・ナーヴァ mirimu nāva)

These figures are from Japanese collectible gashapon (capsule) toys.
Alternate: That Time I Got Reincarnated as a Slime (Japanese: 転生したらスライムだった件, Hepburn: Tensei Shitara Suraimu Datta Ken)
01-36810 That Time I Got Reincarnated as a Slime Capsule Rubber Mascot Vol. 2 300y