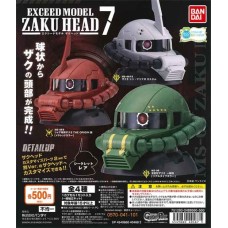 Additional Savings!
Earn Reward Points and apply them to purchases! Find out how to earn more points here.
Features
Exclusively from Bandai Japan
Size: 10 cm (4 inches) Height
Collector's Item
Officially Licensed
There are 4 figures in a set. The Figures are:
MS-06 Zaku II (Mass Production ver Real Type Color) [Green Color]

MS-06 Char's Zaku II (The Origin ver Metal Red Color)
MS-06 Zaku II (Shin Matsunaga Custom) [White Color]

MS-06 Zaku II Zakushin Matsunaga Custom (Secret version) [CLEAR Version]

The Gashapon shell is the Head itself. All the parts are contained within the head capsule. Molded in full color except for Secret version which is molded in clear. Assembly is required.  
Note: Styles will be picked according to manufacturers packout.
These Figures are from Japanese Gashapon (Capsule) Toys.

01-40467 Mobile Suit Gundam Exceed Model Zaku Head Pt 7 500y