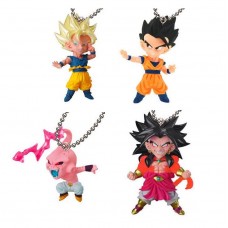 Additional Savings!
Earn Reward Points and apply them to purchases! Find out how to earn more points here.
Bandai Japan Dragon Ball Ultimate Deformed Mascot (UDM) Series mini figure keychain.  There are 4 figures in this set. The figures are:
Super Saiyan Goku
Ultimate Gohan
Buu
Super Saiyan 4 Broly
These are from Japanese Gashapon (Capsule) toys. Size 1.25 inches. 
01-19841 Dragon Ball Super Ultimate Deformed Mascot (UDM) V Jump Special 3 200y