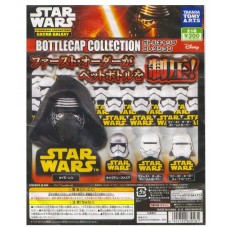 Additional Savings!
Earn Reward Points and apply them to purchases! Find out how to earn more points here.
Takara TOMY A.R.T.S gashapon Star Wars Characters Gacha Galaxy Mini Figure Helmet collection / bottle cap collection. Features a stand for display that also doubles as a bottle cap cover. There are 5 figures in the set. The set includes:

Kylo Ren
First Order Stormtrooper
Captain Phasma
First Order Flame Troopper
First Order Snow Trooper
These Figures are from Japanese Gashapon (Capsule) Toys. Price per figure.
CM-83018 Star Wars Characters Gacha Galaxy Mini Figure Helmet Collection 300y