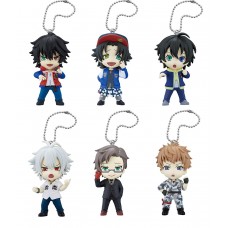 Additional Savings!
Earn Reward Points and apply them to purchases! Find out how to earn more points here.
Features
Exclusively from Japan
Size: 4 cm (1.25 inches) Height
Collector's Item
Officially Licensed
Mini Deformed mascot series. Features a ball chain keychain.
There are 6 figures in this set. The figures in this set are:

Saburo Yamada
Jiro Yamada
Ichiro Yamada
Aohitsugi Samtoki
Jyuto Iruma
Rio Mason Busujima
These figures are from Japanese Gashapon (Capsule) toys. 
01-87512 Hypnosis Mic Division Rap Battle Deformed Mini Ikebukuro Division Yokohama Division Mini Figure Mascot 300y - Set of 6