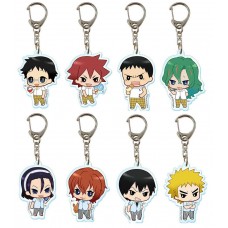 Additional Savings!
Earn Reward Points and apply them to purchases! Find out how to earn more points here.
Features
Exclusively from Bandai Japan
Size: 5.5 cm (2.25 inches) Height
Collector's Item
Officially Licensed
YowaMushi Pedal Grande Road Clear Acrylic Key chain. Features a metal clasp for attachment. There are 8 Different figures in a set. Price Each. The set includes:
- Onoda Sakamichi
- Tadokoro Jin
- Naruko Shoukichi
- Makishima Yuusuke
- Toudou Jinpachi
- Shinkai Hayato
- Arakita Yasutomo
- Fukutomi Juichi
These Figures are from Japanese Gashapon (Capsule) Toys.

01-97039 Bandai YowaMushi Pedal Grande Road In Summer Capsule Clear Key Chain - 300y