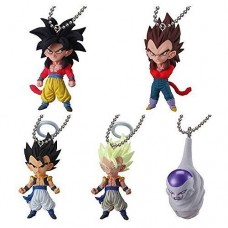 Additional Savings!
Earn Reward Points and apply them to purchases! Find out how to earn more points here.
Dragon Ball Ultimate Deformed UDM series mini figure mascot on a ball chain key chain. There are 5 different figures in this set. The Set includes:
- Super Saiya Jin 4 Son Goku
- Super Saiya Jin 4 Vegeta
- Super Saiya Jin Gogeta
- Gogeta
- Freeza Final Form
These Figures are from Japanese Gashapon (Capsule) Toys. 

01-96895 Dragon Ball Ultimate Deformed Mascot (UDM) Burst 15 200y