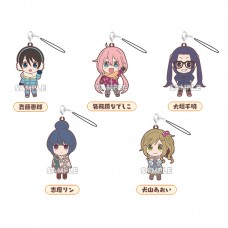 Additional Savings!
Earn Reward Points and apply them to purchases! Find out how to earn more points here.
Features
Exclusive Japan Import
Size: 4.0 cm (1.25 inches) Height
Collector's Item
Officially Licensed
Flat Rubber Mascot on cell phone Strap. There are 5 Different figures in a set. Price per Piece The set includes:
[1] Nadeshiko Kagamihara
[2] Rin Shima
[3] Chiaki Oogaki
[4] Aoi Inuyama
[5] Ena Saitou
These Figures are from Japanese Gashapon (Capsule) Toys.

01-71738 Yuru Camp Capsule Rubber Strap 300y