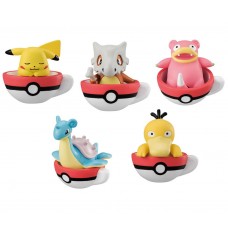 Additional Savings!
Earn Reward Points and apply them to purchases! Find out how to earn more points here.
Miniature figures of Pokemon characters in a Tea Cup theme. Figures and Cup are separate. The cup is a Pokeball design.
Size 5cm (2 inches). There are five characters in this set.
1 Pikachu   ピカチュウ Pikachu
2 Cubone   カラカラ Karakara
3 Slow Poke   ヤドン Yadon
4 Lapras  ラプラス Laplace
5 Psyduck  コダック Koduck
02-17981 Pocket Monsters Sun & Moon Pokemon Tea Cup Time Mascot 3 300y - Set of 5