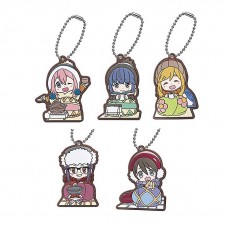 Additional Savings!
Earn Reward Points and apply them to purchases! Find out how to earn more points here.
Features
Exclusively from Bandai Japan
Size: 5.5 cm (2.25 inches) Height
Collector's Item
Officially Licensed
Yuru Camp or  Laid-Back Camp (ゆるキャン△ Yurukyan) is a Japanese manga series by Afro,
There are 5 figures in a set. The set includes:
1. Nadeshiko Kagamihara (各務原 なでしこ)
2. Rin Shima (志摩 リン)
3. Aoi Inuyama (犬山 あおい) 
4. Chiaki Oogaki (大垣 千明)
5. Ena Saitou (斉藤 恵那)
These Figures are from Japanese Gashapon (Capsule) Toys.  Price per figure.
01-29485 Yuru Camp Capsule Rubber Mascot 300y - Set of 5